supersensitive BPA ELISA Kit
Bisphenol A (BPA), principal raw material for polycarbonate and epoxy resins, is suspected as one of the endocrine disrupting chemicals.
GC/MS, generally employed methods for quantitative BPA analysis, requires expensive instrumentation as well as complex and time-consuming extraction process with hazardous organic solvent.



This test kit detects BPA in environment or in vitro with high sensitivity with the aid of solid phase extraction.



The quantitative analysis ranges from 0.05-10μg/L(ppb), sensitive enough to detect BPA in a specimen from river water, etc..
A simple solid phase extraction is available to measure samples with lower concentration.
The total time for measurement is only 2.5 hours.
BPA monoclonal antibody binds exclusively with BPA and does not show cross-reaction with other chemicals with similar structures.
The amount of harmful solvent can be minimized.
Standard Curve of BPA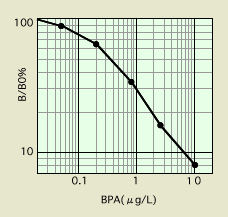 Cross-Reactivity Pattern
| Compounds | Cross Reactivity(%) |
| --- | --- |
| Bisphenol A (BPA) | 100 |
|  Diethylhexylphthalate (DEHP) | <0.05 |
|  Nonylphenol (NP) | 0.19 |
|  17β-Estradiol (E2) | <0.05 |
|  Estrone (E1) | <0.05 |
|  Linear alkylbenzene sulfonate (LAS) | <0.05 |
|  Alkylphenol Ethoxylate (APE) | <0.05 |
|  Alkyl Ethoxylate (AE) | <0.05 |
|  Humic acid Na | <0.05 |
.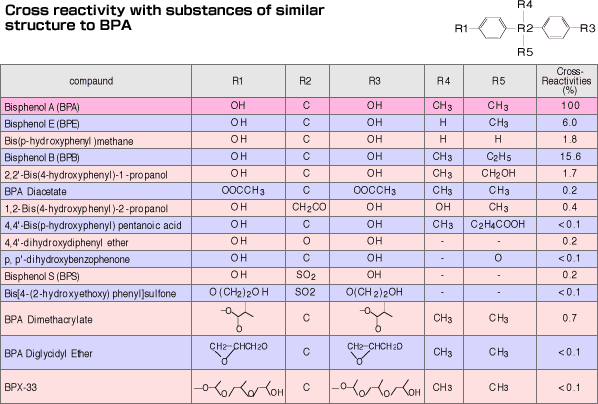 Kit Format
Kit Format
Comment
Microplate
1 plate (96 wells)& reagents
Needs a microplate reader (450nm)
For multiple and simultaneous measurement
Simple Solid Phase Extraction (example)
Adjust the pH of the sample to 3.5 with 1M HCl.
Wash out C18 solid phase cartridge with MeOH and distilled water; then pour the sample through the cartridge.
Rinse the cartridge with water, then elute the mixture of aceton and MeOH at the ratio of 1:1.
Dry the sample with nitrogen gas, then adjust MeOH concentration at 10% for measurement.

For research use only. Not for diagnostic use.